Lanco Hills India Open Racquetball Championships 2016
掲載:2016年1月4日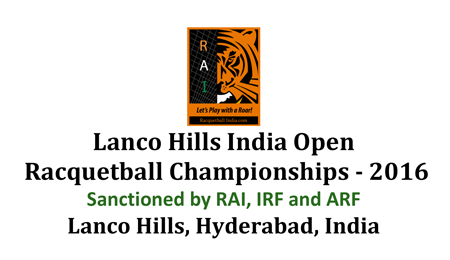 1月29日から31日にかけて、ハイデラバード(インド)にて、Lanco Hills India Open Racquetball Championships 2016が開催されます。
Racquetball Association of India (RAI) is proud to present the "Lanco Hills India Open"
Racquetball Singles and Doubles Championships – 2016 to be held at Lanco Hills Club Zeus, Manikonda, Hyderabad, India from the 29th to 31st of January 2016.
詳細は、下記サイトをご覧ください。
More details available at the following sites:
Web: racquetballindia.com
Facebook: facebook.com/racquetballindia/
Tournament Page: http://www.r2sports.com/tourney.asp?TID=16939
ルール:IRFの公式ルールに準ずる。選手はコート内では定められたアイガードを着用すること。
Rules: This is a IRF, ARF and RAI Sanctioned Event. IRF Official Rules of Racquetball shall apply. Players must wear approved eye guards on court.
Directors reserve the right to combine events or reclassify players. RAI membership is required.
審判:勝者は次の試合の審判を行うこと。審判できない場合は代わりを探すこと。
Referees: Winners must referee the next match or find a qualified replacement
試合球:Penn Green
Official Ball: Penn Green
ホスピタリティー:参加者には、T-シャツ、軽食、ドリンクが用意されます。
Hospitality: T-Shirt, food and drink are provided for all participants.
クラス:Men's and Women's (Singles & Doubles) Open, A, B, C, D
Skill Divisions for Singles Men and Women (Singles & Doubles): Open, A, B, C & D.
ジュニア特別クラス:14歳以下、18歳以下
Special Divisions for Juniors: Under 14 & Under 18.
参加費:1st イベント 600 Rs, 2nd イベント 400 Rs.
Entry Fee: Rs. 600 for the first event and Rs. 400 for subsequent event(s). Team India Qualifying
Event: Rs. 1,000.
RAI membership Fee: Rs. 1000 / Year OR Rs. 5000 / Life OR Rs. 200 / Single Tournament
参加者の人数によっては、複数のクラスをまとめる場合があります。また、女子の参加選手が少ない場合は女子・男子のクラスとする場合がありますので、あらかじめご了承ください。
* Divisions might be combined / removed based on the participation in each division. If there are not enough Women players, we might even combine the Women and Men as well.
[English] Lanco Hills India Open Racquetball Championships 2016(PDF)
大会名:Lanco Hills India Open Racquetball Championships 2016
会場:Lanco Hills Club Zeus
Manikonda, Hyderabad India
日程:2016年1月29日~31日